THE HISTORY OF AN
AUCKLAND LANDMARK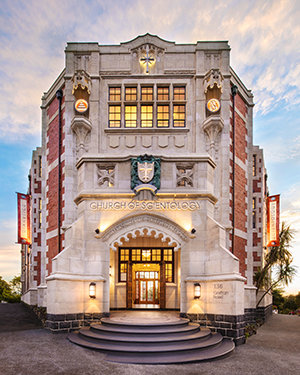 The site of the impressive Gothic Revival landmark that overlooks Grafton was originally granted to the Wesleyan Mission in 1844 by the Governor of New Zealand to house a school for Maori teachers and pastors-in-training.
The red brick and white Oamaru stone structure that stands today began as the winning entry in a 1925 national competition to find the perfect design for a new Trinity Methodist Theological College. Construction commenced in 1927, and the college opened its doors in early 1929.
For half a century, the facility was a hub of spiritual training and education.
In the early 1970s, the complex was leased to the Department of Education. In the ensuing decades it served a variety of educational institutions.
In recognition of its cultural significance, Heritage New Zealand listed the building as a Historic Place in 1981.
Upon acquiring the building, the Church of Scientology conducted considerable and meticulous repair and restoration of its architectural features. Among these are the ornate stone fireplaces, solid oak and cast iron balusters in the winding staircase, the original rimu and jarrah millwork throughout, and the distinctive chapel and bell tower added in the late 1950s.
This Auckland landmark now stands revitalised to its original glory. Rededicated in January 2017 as the Church of Scientology New Zealand, it continues its unbroken heritage as a place of enlightenment and spiritual knowledge.